These paintings are inspired by our own farm animals and also by animals from surrounding farms in our area.
We met this sweet donkey at Reece Heritage Center Blairsville, GA
The Silkie Chickens of Flynn Farm, Jasper, GA
Kaitlyn the Llama, inspired by Smokey Mnt Llama Trek, TN
All Creatures Great and Small
Big Mama and Sugar, some of the first goats at Sweet Williams Farm
Delilah, our model for our Georgia Peach goat milk soap
Inspired by the neighbors horse who often escapes and wanders into our pasture.
Inspired by our loofah vines and the butterflies who love their nectar.
Country Road take me Home.
Vinnie the Rooster and our Sunflowers
Inspired by Regan, a nubian doe who lives at Town Mountain Farm, Hayesville, NC
This was one of my favorite paintings. I added my little goat, Sugar, to the left in the field, our chickens up front, our sunflowers and loofah's growing.
Benji, one of the first babies born here at Sweet Williams Farm.
Llama portrait inspired by a local llama rescue group.
The dairy herd of Town Mountain Farm, Hayesville, NC
One of our dairy girls, Penelope, and model for our unscented goat milk soap.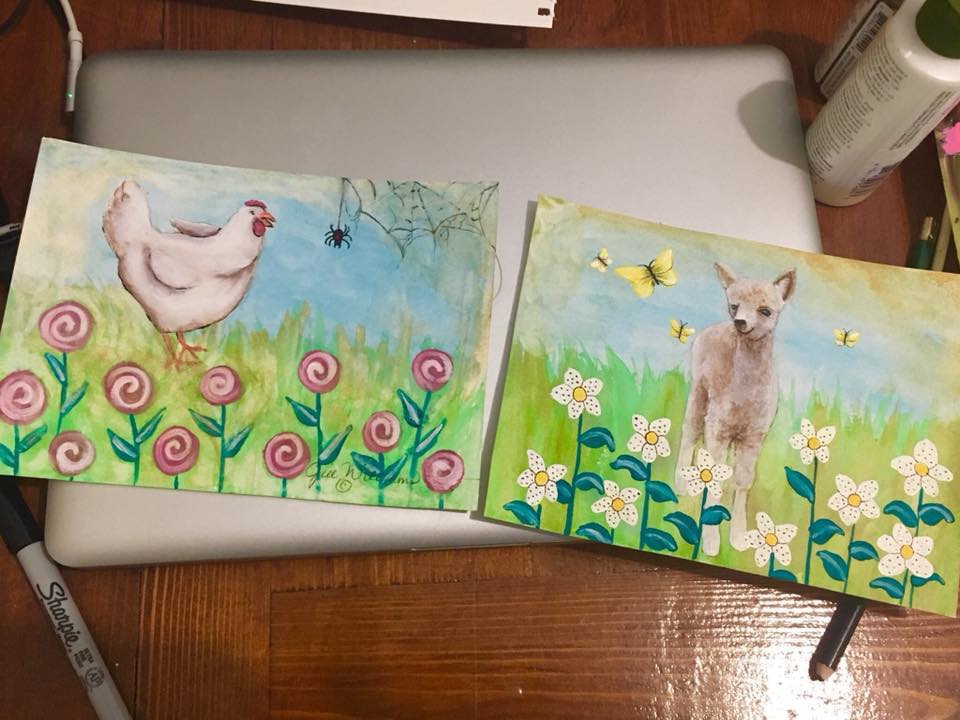 Ethel the Hen from Sweet Williams Farm and Sassyfras the Alpaca from Dancing Meadow Farm, Jasper, GA
Dazzle the Cow of North GA Zoo and Farm, Cleveland, GA
Our farm dog, Wally, and the old truck in front of BubbaQ, Jasper, GA
If you are interested in art prints or have interest in having images of Jill Williams artwork being printed on your products, please contact us at jill@jillywillys.info It is unlawful to copy and reproduce artwork without permission from the artist. You are not allowed to copy, reproduce or recreate my artwork. Doing these things is a violation of copyright laws. It makes my heart sad to see my images taken and used or recreated without my knowledge, credit or permission. I do hope you gain inspiration to follow your own creative direction in your own unique way. Any images recreated in a classroom setting taught by me is for educational and learning purposes only and you do not have permission to sell an artwork created in my classes. I encourage you to find your own style and I also look forward to you sharing your own unique creations with me.
Many blessings,
Jill Williams